We saved the best for last!
We've been working to bring you a fresh new look for the Fall and we're excited for you to see it.
While you'll find changes throughout the application we wanted to highlight a few things you'll see on your dashboard when you log in.
Your Course Listing
Courses are now represented by cards. They include a default image which you can personalize through your course settings. When you log in you'll see a list of your current courses, but you can easily access past and future courses too.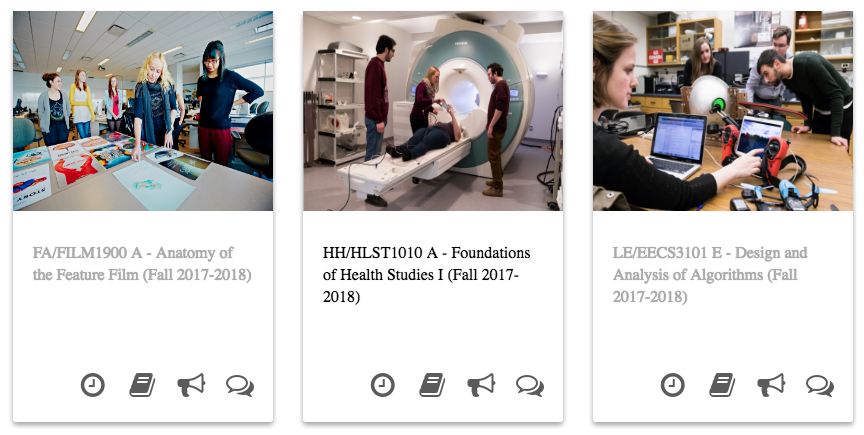 Course Information At Your Fingertips
Those course cards make a lot of information available quickly, with similar (but different) information available to instructors and students. Click a button at bottom of the card to flip it over to see: course announcements; course textbooks; recent forum posts and upcoming events.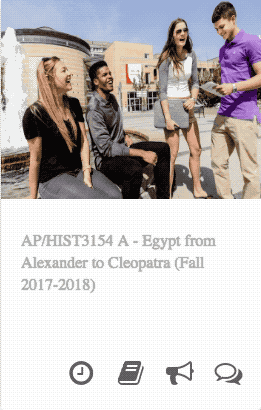 Timeline
The dashboard also allows you to select a timeline view of key course information. You can sort by date, or by course.

Blocks
For years Moodle has used blocks as a solution for navigation and content display. These days courses are accessed from all sorts of devices, from phones to desktops computers, with tablets and laptops in the middle. Often blocks take up space on the screen that you'd rather use to see course content. Now you can move them out of the way with a click, and bring them back whenever you need them.

Messages and Notifications

Access to your messages and notifications is easier than ever. You'll find icons for them both right next to your profile picture so you have constant access to them. Notifications alert you to events, such as, new forum postings or assignment submissions that need grading. You can change your notification preferences by clicking on the gear icon within the notification drop down menu.
Want more information about the new features? Take a look at our previous posts, 'Assignments and Grading' and 'Making Things Easier for You.'
Or visit our news page.