Summer Learning Technology Updates
We are doing some exciting work this Summer to get you ready for teaching this Fall.
At UIT, we are always working behind the scenes to ensure that the learning technologies you rely on for your teaching and learning are meeting your needs. We've been working the past few months preparing some enhancements to key applications and services in time for your Fall classes. Here's an overview of some of the changes you can expect to see for September: 
Moodle
Better organization for your dashboard 
We've been working on providing you with more flexibility to view your courses in a way that works for you, whether you prefer the list view or the course card view we have you covered.  

To help you customize your view even further you'll have the ability to star or hide courses as well as quickly be able to jump into recently accessed courses.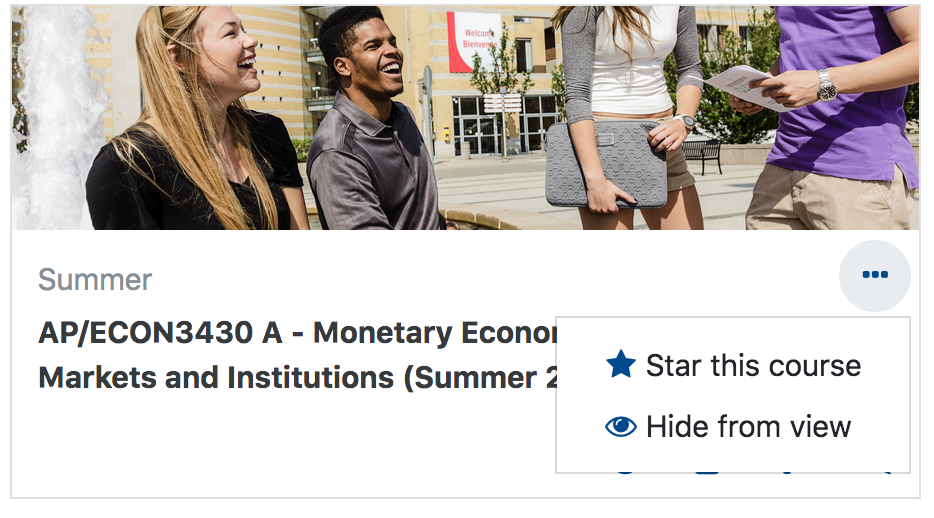 You'll also have the ability to quickly jump back into recently accessed courses and items with the addition of recently accessed blocks.
Discussion forum updates 
As in the dashboard, stars are now in use in a few places in Moodle, including discussion forums. Star a discussion and it will move to the top of your discussion list (though below any posts you have pinned at the top). You'll also have the ability to sort discussions by replies, last posted or when they were created. Instructors also have additional capabilities and can manually lock discussion forums to prevent future posts.

This update also simplifies your ability to reply to posts and will save you clicks. When you reply to a post the submission field appears right there. The interface you're used to is still there if you need it, giving you access to the editing toolbar or attachment box. These additional features are only a click away when you click 'Advanced'. Also new in this update is the ability for instructors to reply privately to a post.
Messaging improvements 
Instructors can enable group messaging when setting up groups in their course. The group will then be able to have their own conversation through the messaging interface.  
You can now star messages that are important to you as well as muting those for which you don't want to receive email notifications, e.g a lively group conversation.   
Preview the upcoming Moodle changes ahead of time
In July, we'll be giving you access to Moodle Preview, a reinvisioned version of the Moodle Practice environment. Here you'll be able to see all of these new changes and try them out yourself. We'll even be bringing across your 2018-19 course content so you can see how your course will behave with all of these new changes. More to come on that.... 
iClicker
Cloud
In August we'll be rolling out that latest version of iClicker Cloud to our classrooms. This new version comes with an improved toolbar that allows you to access your in- class activities all from one place. Learn more
If you are using iClicker Cloud on your laptop you'll need to ensure you update to the latest version by August 16th. Download it now.  
AirYorkGUEST access available
If you have visitors to campus who need access to the internet you can point them to the AirYorkGUEST network, more information can be found at  http://student.computing.yorku.ca/wireless-access/airyorkguest/  
Catchbox
Catchbox is a throwable microphone designed to encourage engagement, participation and discussion in your classroom.  If you'd like to learn more go to https://catchbox.com/. If you'd like to try it out in your class get in touch with us at ltshelp@yorku.ca
That's all for now but be sure to stay tuned for more updates to come. Get in touch at ltshelp@yorku.ca if you have any questions!